3511 With Her Til The End
A couple of announcements:
1: The family and I are flying off to Toronto for the holiday weekend and won't be around for a week. I've set YAFGC to update tomorrow, but after that it will be frozen until I get back. That means that we'll be missing Monday and Wednesday's updates. Possibly Friday's too, but we'll see how I'm doing when I get back. Sorry for the inconvenience, but rest assured, there's LOTS more YAFGC coming so stay with us!
2: "With Her Til The End" It is with a heavy and broken heart that this morning, April 13, 2022,in my arms, we said goodbye to our beloved Lilac Point Siamese, Regina. At 19 years old, she'd been a close companion through our wedding and the birth of both our children. Peaceful sleep, your little majesty, you've earned your rest. So many cuddles, purrs, loves, laughs, tears and joy. Truly the Perfect Cat. Rest Well.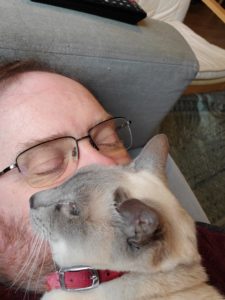 Regina and the Beholder King